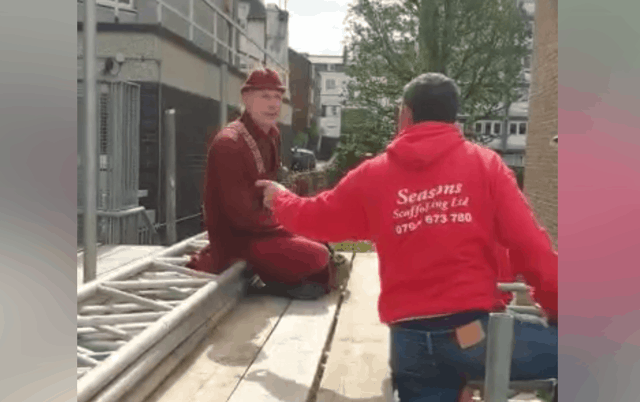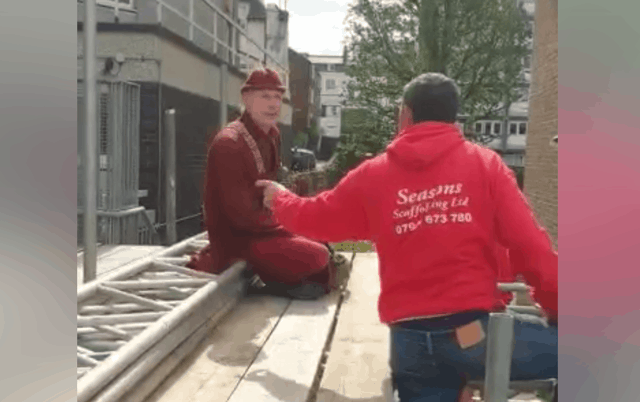 Dramatic video shows how a protester scrambled up scaffolding under construction in Brighton, spending four hours protesting that the structure erected was endangering foxes.
Wearing just robes and flip-flops the male protester was caught on film on climbing 13ft to the unfinished top lift of the scaffold being built on by local firm Seasons Scaffolding. The man shouted at the workers "I'm protesting." and claimed he had "served his country" and didn't want them to "take advantage of vulnerable animals."
Steve Eason Managing director of Seasons Scaffolding uploaded the clip to Facebook after the incident on Tuesday. He can be seen trying to stop the man from gaining access to the top lift. He let go of the man when the protester claimed he was being assaulted.
Disgruntled scaffolders unable to continue with the job can be clearly heard repeatedly telling the man that it is unsafe for him to be on the scaffold. Seasons Scaffolding staff and the Police tried for nearly four hours to coax the protester down off the scaffold.
*NOTE: The following video contains language that some viewers may find offensive.*
The man eventually calmed down and came off the structure after Steve explained to the man how the scaffold was constructed showing that no animals were being harmed.
Speaking to Deadlinenews Steve said: "He came down when I explained to him exactly how the scaffolding was put up and that there was a bolt underneath for any animals. He was a completely different person when he came down and I showed it to him, he said: 'you should have just told me that earlier', I said: 'you were too quick climbing up there mate'. Then he was very apologetic and said sorry for costing me so much money."
"He didn't get arrested, he was just warned by the police."