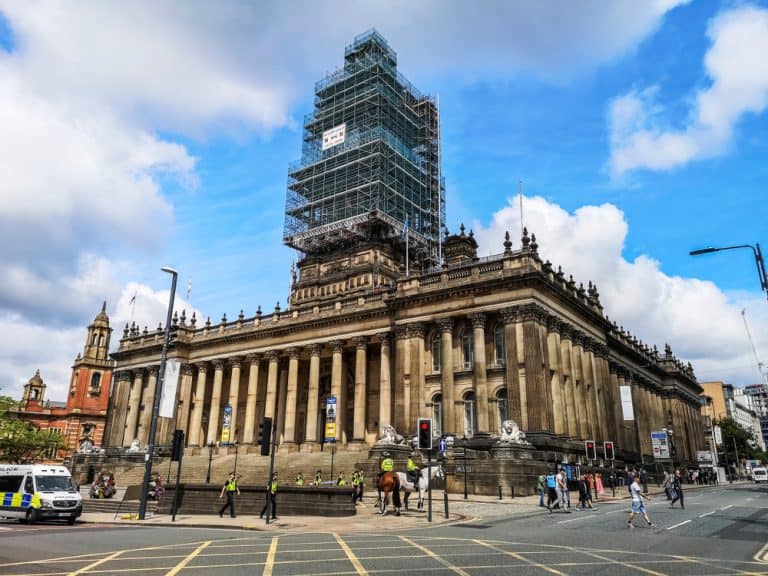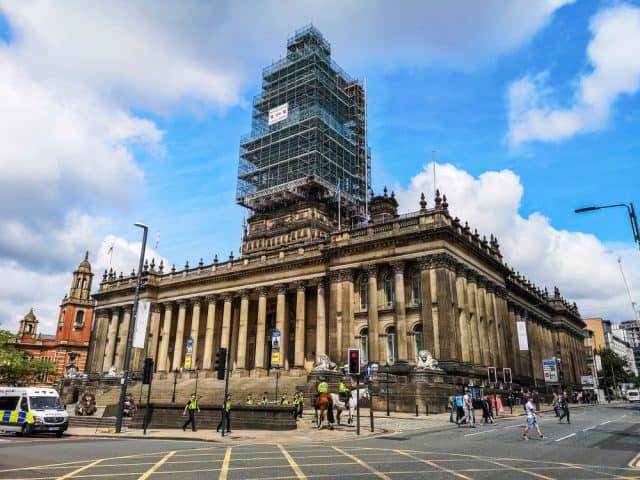 As the pride of the city the charismatic Leeds Town Hall was opened back in September 1858 by Queen Victoria and Prince Albert. Today it's a live venue hosting concerts, civic functions and even world-famous organ recitals. An icon of this effervescent city, imagine the responsibility of any scaffolding company asked to erect a system so much needed refurbishment work can be carried out as the building stays live? Add to this, the fact ground-based scaffolding isn't an option, and a major challenge quickly emerges alongside a strict time-line. In essence, all works would need to be completed on time to meet concert dates. No pressure then? Certainly not for IBN Scaffold Access Ltd, working for Bermar Building Company Ltd to provide a quality service with safety at the forefront.
Combination Thinking
This is also of course, where state of the art modern conference and meeting facilities meets the splendor of vibrant Victorian architecture. In terms of restoration, the project has involved a new heritage trail around the Victorian cells, work on the courtroom, Victoria Hall and clock tower, alongside the strengthening of the roof, improved acoustics and a 21st century bar.
IBN Scaffold Access Ltd Called in the services of Creator Scaffold Designs to come up with a combined plan to create the perfect system for the task. In short, this amazing scheme was all about access solutions and temporary roofs. This was their brief:
No ground-based scaffolding

No public disruption

Wind loadings on the clock tower

No supported scaffolding from existing roofs

Complete safety around the site
And naturally, as is the case with most buildings these days – it had to look aesthetically pleasing, from hoist supports to beamed support walkways. Weight was crucial, as all scaffold would be erected from supporting beam work or gallows brackets. Every step of the way excellent management combined with great skill and continual flexibility, offered up a perfect demonstration of how scaffolding in the modern industry is accomplished.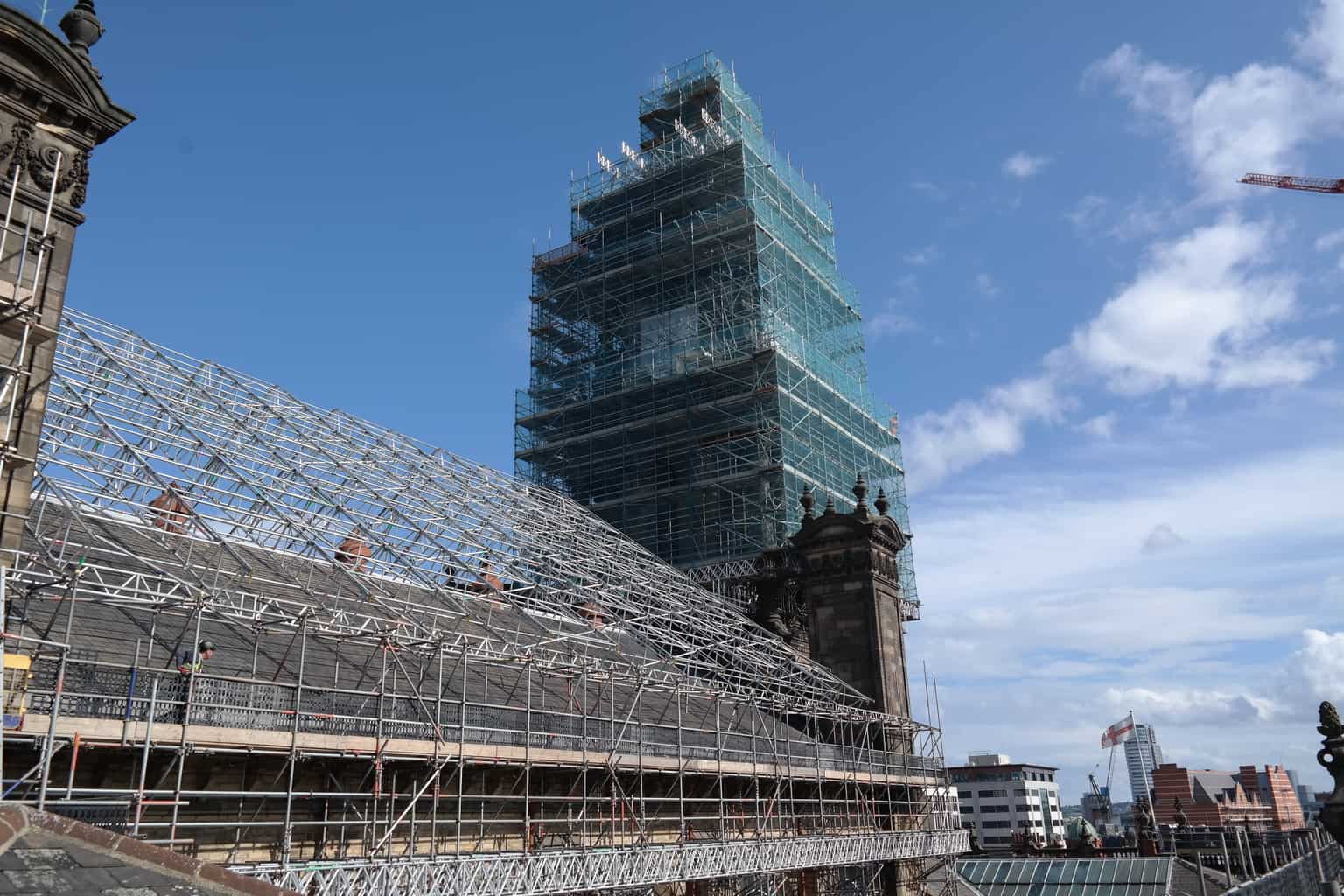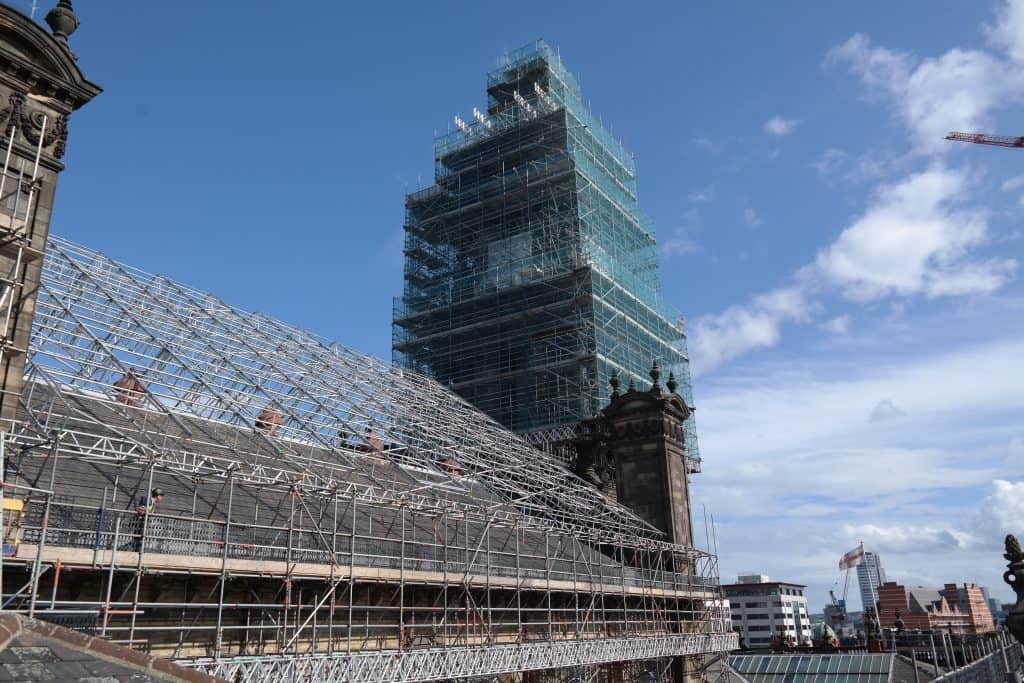 Red Letter Day
Sunday, June the 16th was a red-letter day for the company when a team of ten highly skilled operatives began work erecting trusses at ground level, before they were lifted by a temporary crane to cover the roof of the town hall. The nearby road was closed as every single truss was lifted and put into place on the same day. Having reviewed all roof options they discovered a rolling roof system wasn't possible due to a restriction of imposed loads on the roof structure itself. Everything went according to plan thanks partly to the efficiency of the Generation Uni Roof design. In fact, the timing was superb.
In terms of the famous clock tower, both Asterix and Deep X Beams were used for support work on the base of the clock tower. Taken overall, the project has involved 145 tonnes of scaffolding – It was 36.00 metres from the support work to the top of the lift of scaffolding.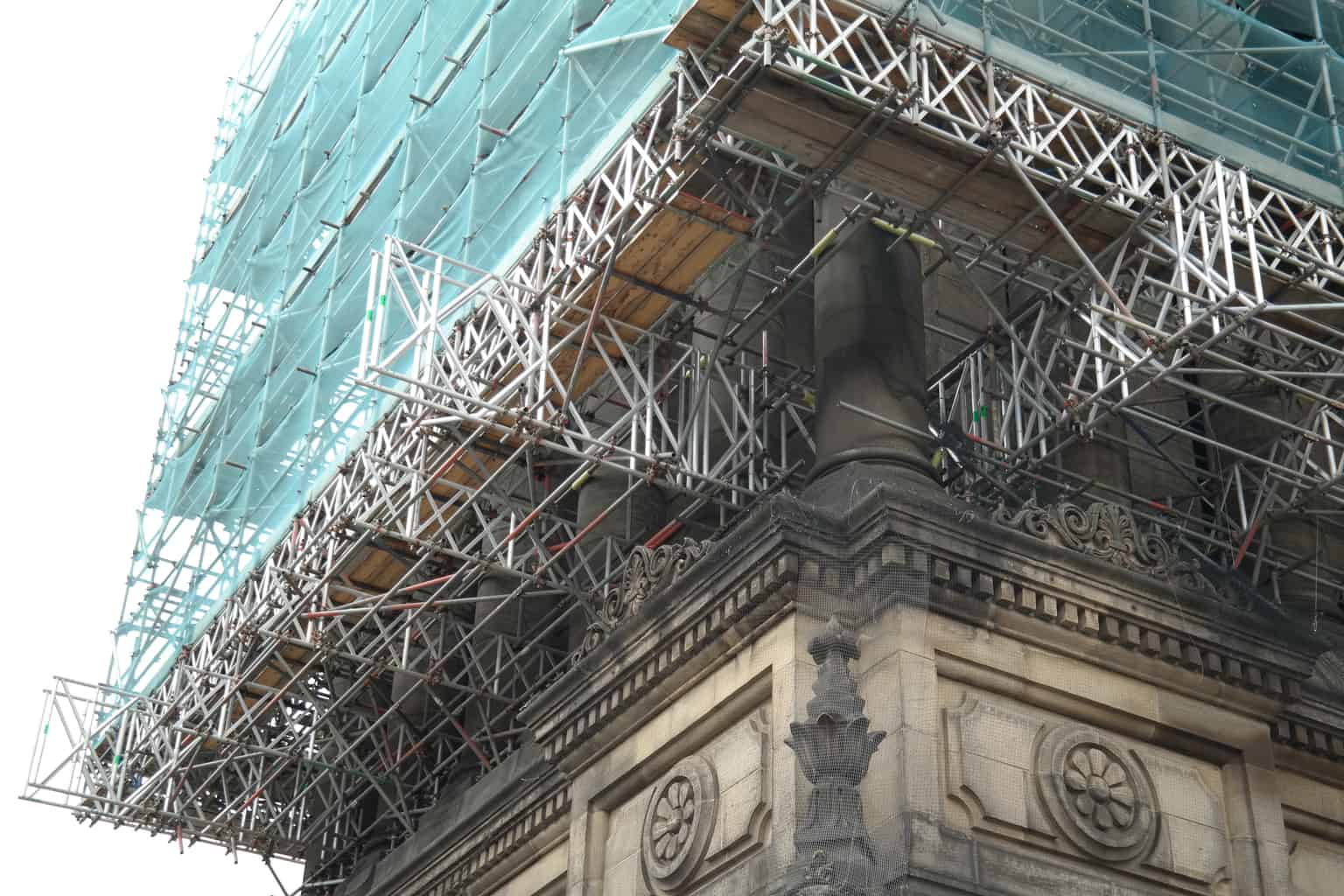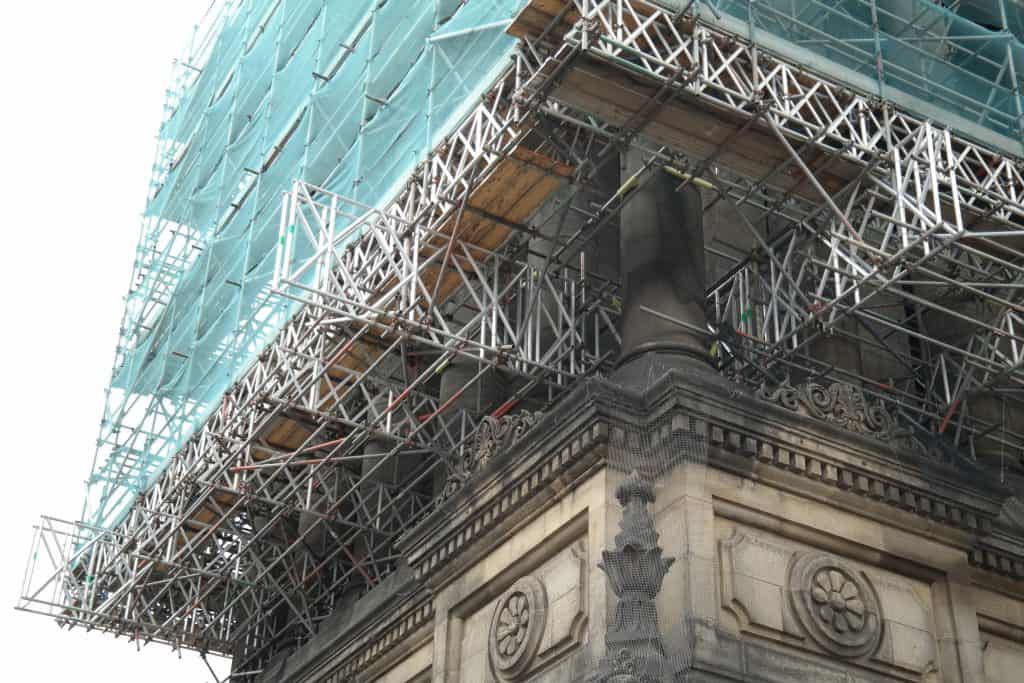 Stuart Smith, Surveying Director for Bermar Building Company Ltd told us: "IBN was the scaffolding company of choice on the major re-roofing project we undertook with Leeds City Council on the listed buildings of both the Leeds art gallery and library. The project was successfully completed in no small measure thanks to IBN's exceptional services.
"When we were awarded the recent re-roofing project of the grade 1 listed Leeds Town Hall, we were keen to use them again."
Managing Director of Creator Scaffolding Design Ryan Berry added: "Through forward-thinking IBN instructed Creator to attend regular visits to ensure compliance with design and to assist the site team with engineering complexities. This, ultimately ensured a safe structure."
A Go-Ahead Enterprise
IBN Scaffold Access Ltd is an independent Scaffolding Company offering an extensive range of scaffolding services from Depots based in Barnsley and Manchester. The company has grown to be one of the leading Scaffolding Companies in the North of England, offering clients a bespoke service, from initial design advice right through to a successful completion of the works on site.
Success is measured by clients choosing scaffolders like IBN Scaffold Access Ltd because of their belief in their ability to meet or exceed expectations when it comes to safety, price, service and experience.
All deadlines and expectations were indeed met and even exceeded in some cases. All staff involved on this momentous project could rightly feel very proud of the result. Yet again, the scheme proved there's much more to scaffolding than the public think.
With everything due to be dismantled in mid-autumn, it seems IBN have as usual, exceeded expectations in delivering another first class job. 21st-century innovative scaffolding at its best – Original designer Cuthbert Brodrick and Queen Victoria would have surely been impressed.
This article was first published in ScaffMag Issue 7