48.3 is driving the evolution of scaffolding by integrating all aspects of temporary and permanent works design, which results in a much more time-effective, cost-effective and safe solution. 48.3 Managing Director, Ben Beaumont, proudly introduces the future of scaffolding.
Albert Einstein once stated that "Insanity is doing the same thing over and over again and expecting different results." This is exactly the case when it comes to processes and procedures in the temporary works sector of the construction industry as we know it today. We are continuously going through the process of instructing scaffolding contractors without considering the scaffolding design, designing scaffolding without taking into consideration any other temporary works, and racing to the end of the scaffolding part of a construction project without taking a step back and considering the bigger picture (i.e. the permanent works). The process is arduous and generally unsatisfactory, and yet the industry continues to work this way.
The need for change
Scaffolding is often the first thing people need, and the last thing people think of. The result? A round-the-houses solution which usually ends up incorporating multiple aspects of temporary works, with unnecessarily more risk due to the combination of said temporary works, increased miscommunication between all the different interfaces (the strife of a Temporary Works Coordinator) and, ultimately, unbelievably high contract growth (I'm talking 75-80%). Seems ludicrous – and yet on it continues. Why? There's potentially an element of habit and tradition (i.e. that's how it's always been done) and probably something to do with the principal contractor not necessarily knowing what they will ultimately need (scaffolding is a skilled niche after all). But with the update of BS 5975 published in May this year, this code of best practice has significantly updated its Section Two on the procedural control of all temporary works and how all involved parties should operate their procedures.
The first step to change
The first step in 48.3's evolution came to fruition around two years ago, with the introduction of its commercial and management services offering. This provides principal contractors and tier 1/2 sub-contractors with an effective scaffolding procurement strategy, where we take full responsibility for scaffolding and access requirements. As mentioned earlier, the 'usual' process of scaffolding design is to incorporate the design requirements into the scaffolding contractor's package. There's no upfront design as is expected with other temporary works. A scaffolder's scope of works is understandably focused on the scaffolding, therefore other temporary works or permanent works are not usually considered. This culminates in the Temporary Works Coordinator needing to manage the integration of multiple interfaces, contacts and designs which all need to align and conform. It's a chaotic approach which becomes very consuming of time, cost and resource. We have been encouraging principal contractors to remove design from the scaffolding package, to make design an up-front requirement of a scaffolding project and to improve the visibility and understanding of a project (i.e. how much it will cost and how long it will take). It's a shift in habitual behaviour, but ultimately, it provides more time and more opportunity to provide a much better scaffolding solution in a much safer way.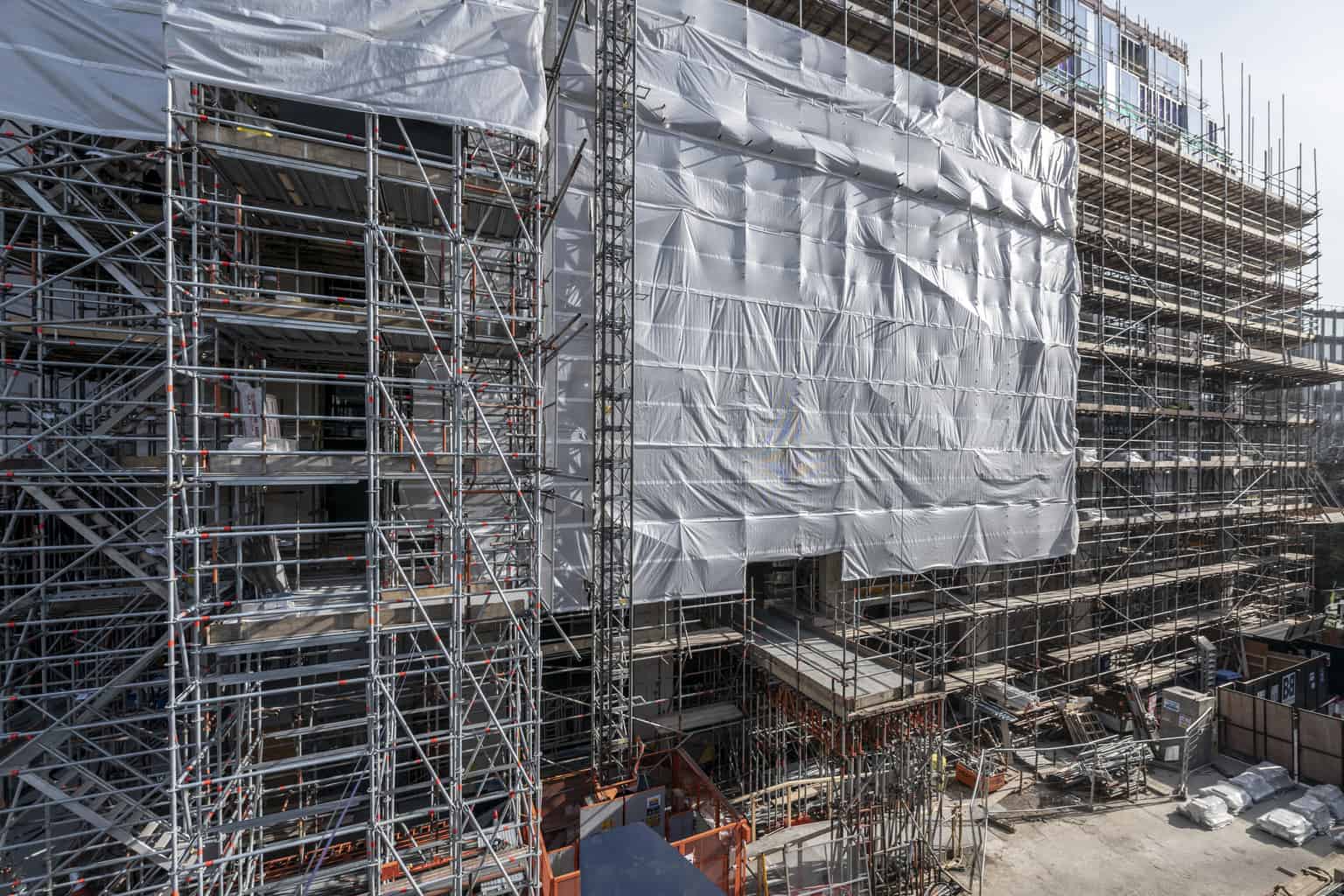 Integrated design services
In July, 48.3 announced that it has joined the Richter Associates group of companies. The combination of scaffolding and access design expertise from 48.3 and Richter's civil, structural and geotechnical know-how means that there is now a provider of fully-integrated design services to the industry. The benefits that this brings to principal contractors and scaffolding contractors are extensive. 
Being able to provide principal contractors with a full circle design service, which includes both temporary and permanent design from one team, means that all requirements from the start to the finish of a construction project are considered at the very beginning. It removes the need for multiple contacts with multiple tasks and removes any conflicts of interest or miscommunication. For example, instead of scaffolding being designed on a concrete slab that requires backpropping, we'll consider how to reinforce the slab more effectively (permanent work) so it can safely support the scaffolding without the requirement for additional temporary works (the backpropping). We can consider all requirements to create a much more cost and time effective solution. If it is decided the backpropping is the best solution, then we design that too, along with checking the ground and foundations. We want to put an end to "design by others" or "design by principal contractor" notes on the drawing. That way, it is as simple and easy to manage for the TWC (temporary works coordinator) as possible. 
We recently presented our proposition to a principal contractor, who spends £10 million a year on scaffolding (with an average contract growth of 74%). By managing their scaffolding packages from tender stage and providing an integrated design service, thoroughly planning and establishing what is actually needed, taking into account the requirements of both the temporary and permanent works, we committed to reducing their average contract growth to around 35% (an annual saving of £2 million). No changes to what they need to do, no revision of any internal procedure – just a pure saving. Even more importantly is the positive effect this approach has on safety. 'Slips, trips and falls from the same height' and 'working at height' are two of the most frequent causes of accidents. Scaffolding, or working from scaffolding, is a significant contributor to both categories.  Our approach to scaffolding design means that we provide the right solution, the first time, with scaffolding going up and down once, and with few unplanned modifications or updates. The reduction that this has on Accident Frequency Rates is fantastic, which drives us even more to transition the industry into well-managed procurement and planning combined with an integrated design mindset.
For scaffolding contractors, the benefits of an integrated approach are also significant. Whilst the scaffolding contractor doesn't have to take any more responsibility than they typically would now, the responsibility of the surrounding interfaces is taken by 48.3. For example, 48.3 will design the scaffold as per the scaffolding contractor's requirements to satisfy the design brief, but then also check the ground (or any supporting structure) upon which it is standing and if necessary, design suitable footings and foundations. 48.3 will check the structure to which the scaffold is tied, both locally and globally, under the temporary load case imposed by the scaffold. We can include all aspects of civil, structural or geotechnical design. All other things being equal, this will give a scaffolding contractor a significant competitive advantage over rivals in tender; significantly easier and more straight-forward design delivery and temporary works management for the principal contractor.
The future of scaffolding
One of our fundamental values at 48.3 is 'See the finished structure before you start.' This means planning, vision, direction, understanding, reverse engineering and foresight. All of these components are what makes our integrated design approach a success. Incorporating temporary works and permanent works all into the original, up-front design ensures no unnecessary integration requirements of multiple temporary works, safer working environments due to thorough planning and considerable saving of time, cost and resource. It's gives scaffolding contractors quite the competitive edge and equips principal contractors in a unique way. It is the future of scaffolding design, driven by 48.3.
Towards the end of 2019, the Temporary Works Forum will be releasing 'The Management of Scaffolding' – a guidance document on how to satisfy the procedural management requirements of the updated BS 5975. Ben Beaumont of 48.3 is convenor of the working group creating this.