The boss of two Milton Keynes based scaffolding firms has been awarded the SME National Business Award for Mentoring.
Matt Bowler, MD of MK Scaffolding Specialists and Vantage Event Structures was awarded the Gold Award at Wembley, in recognition for his work with young people and ex-offenders.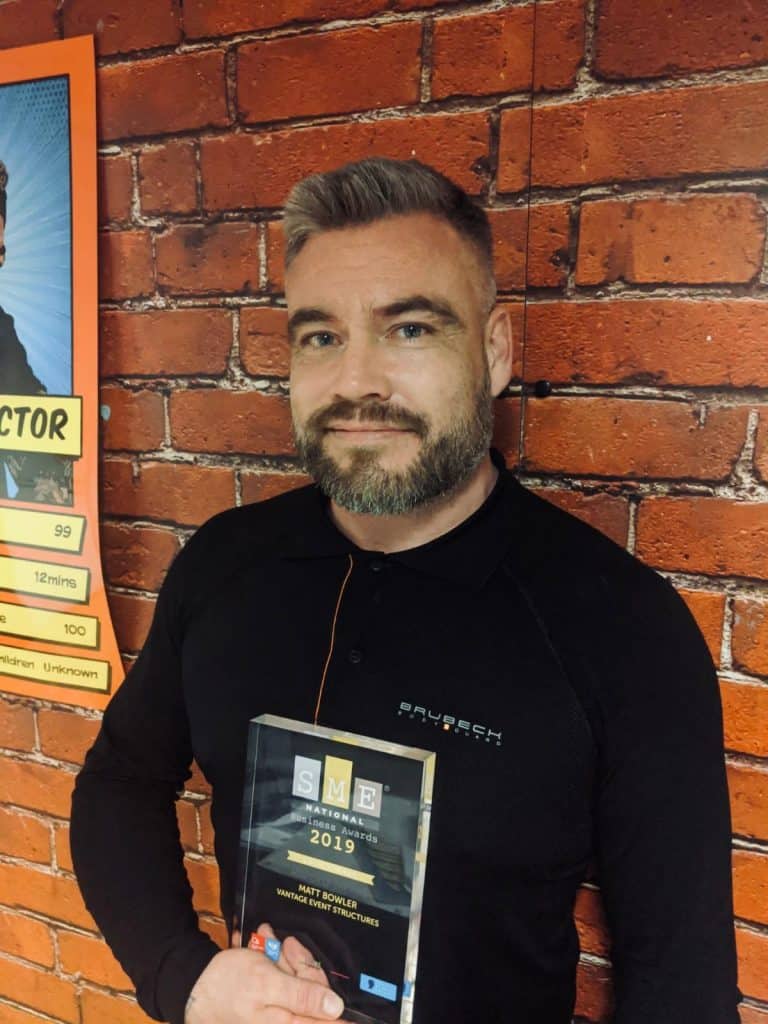 Tessa Ojo, CEO of the Diana Award Charity, which sponsored the Mentor Award said Matt had "fully focused on training and giving people a hand up. This is real active mentoring and is highly commended."
Matt created a work scheme for inmates of HMP Spring Hill in 2011, giving those involved a chance to reskill as scaffolders working at his firm in Old Wolverton.
Andrew Sibley now a rigger for international film studios, commended Matt for his support "because of Matt I work in films now and I go all over the world with my work. Whilst in Spring Hill he got me on the scaffolding qualification programme. If it hadn't been for Matt I would probably have gone back into crime."
The SME National Mentor Award also recognised Matt's work with young people and the opportunities he has given school leavers via his companies' Apprentice Scheme, run in partnership with the National Construction College.
Corey Robertson joined the scheme aged 17 and is now finishing his scaffolding qualification. Corey admits "I was on the wrong path before and I'm in a much better place now, scaffolding keeps you busy and keeps you fit, it's been really good for me." 
Matt has been open about his own life story and how turning away from gangs and violence and channeling his efforts into something productive has enabled him to turn his life around.
"It gives me a lot of satisfaction to help kids who are in the same position I was in and in construction there are so many opportunities to diversify into an area that suits you, Matt said.
"When I started as a scaffolder if someone had told me I'd be building and designing structures for London Fashion Week and commentary boxes for premiere league football clubs, I wouldn't have believed them." 
In 2019, Matt's company Vantage Event Structures won the Design & Creativity Award at the MKBAA2019 for various projects including Scaffolding artworks for Burberry fashion house and a giant Rubik's Cube for phone company Huawei on the Southbank.
Matt was also recognised for his contribution to national and international business by winning Entrepreneur of the Year at the Milton Keynes Business Achievement Awards 2019.