Award-winning leading hoists specialists, Taylor's Hoists are this month celebrating 15 years at the top of the UK construction vertical access provision sector.
The Cambridgeshire-based firm is now part of the BrandSafway/Lyndon SGB operation, offering an unrivalled, combined leading access and scaffolding solution nationwide, alongside the might of the Lyndon SGB MASTCLIMBERS™ operation.
Using their market-leading, environmentally-friendly fleet of hoists, they provide award-winning vertical access of some of the UK's largest construction top tier projects, with a full-service of hoists support; from design conception to completion and including a comprehensive client maintenance and hoist familiarisation program.
Right at the heart of the business is Paul Price, who has been with the Taylor's Hoist brand, since the first few days in 2005, where his career began on the tools as the company's first and only hoist erector. He is now Managing Director.
Paul said: "I can't tell you how extremely proud I am to be celebrating 15 years of Taylor's Hoists and to now be part of the mighty Lyndon SGB and BrandSafway operational capacity. Together, we are now achieving more than ever. I am so proud of what we do, what we deliver, who we are and where we came from. The whole team deserves enormous recognition for what we have achieved together over the past 15 years."
Lyndon SGB's Managing Director, Stuart Robinson, said: "Congratulations Paul and all of the team, for 15 years of increasing success. They work incredibly hard to achieve the highest possible standards in vertical access provision for our esteemed clients. Their passion for their brand spills over into every single aspect of their work. They are a huge asset to our portfolio and an increasingly important and popular choice for our leading construction client base across the UK."
When the Taylor's Hoists business began in 2005, originally based at a small yard in Watford, Paul Price was its only hoist erector. Fifteen years on, Paul leads a 33-strong team from their spacious yard, storage, maintenance and office facilities behind Duxford Air Museum (strategically centrally located to serve the firm's nationwide jobs), just off the M11/A505 corridor, which they moved to in 2011.
And the Taylor's Hoists operation now also functions from a second site at the new Lyndon SGB single scaffolding depot in Manchester, serving leading projects in the Midlands, the North and Scotland.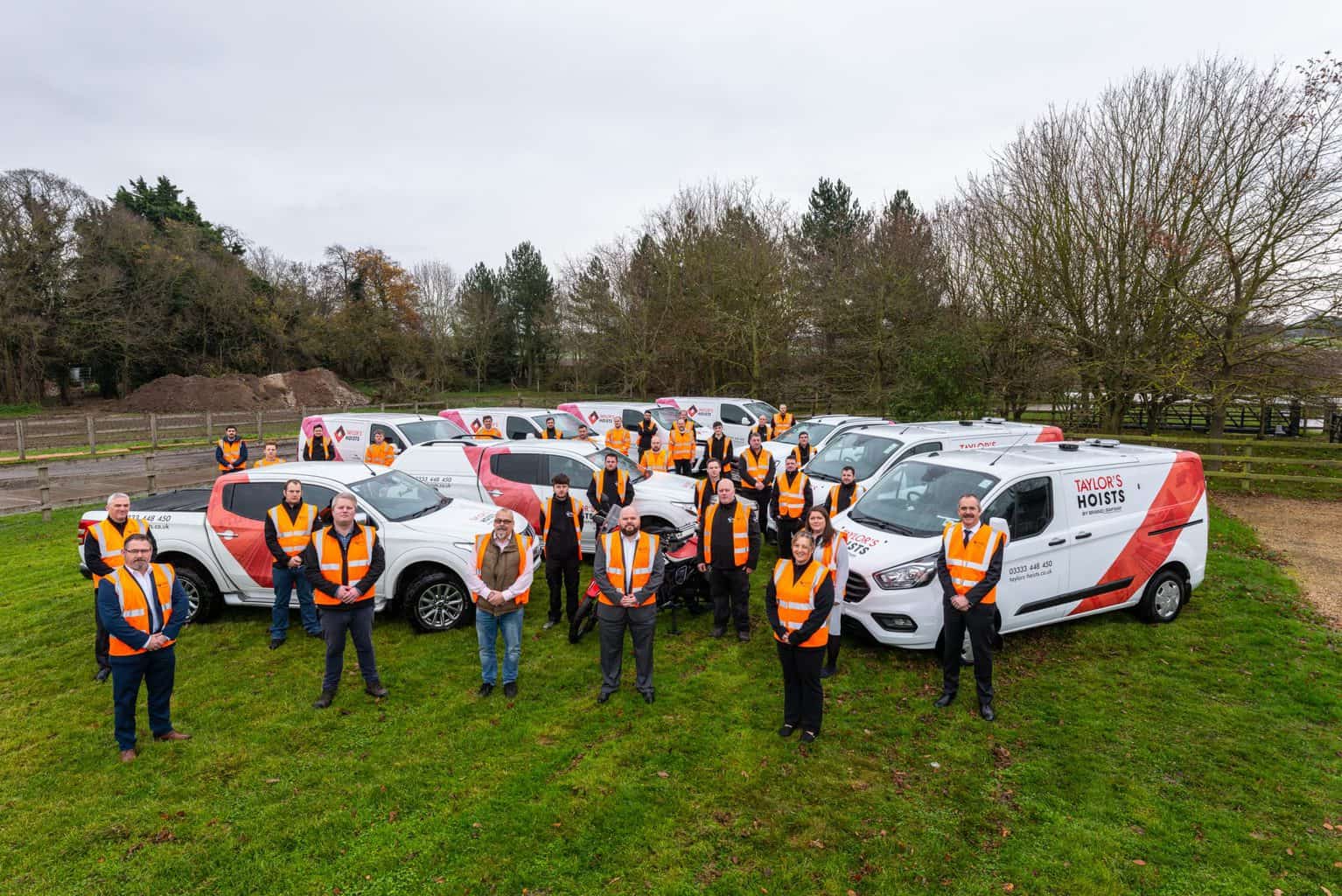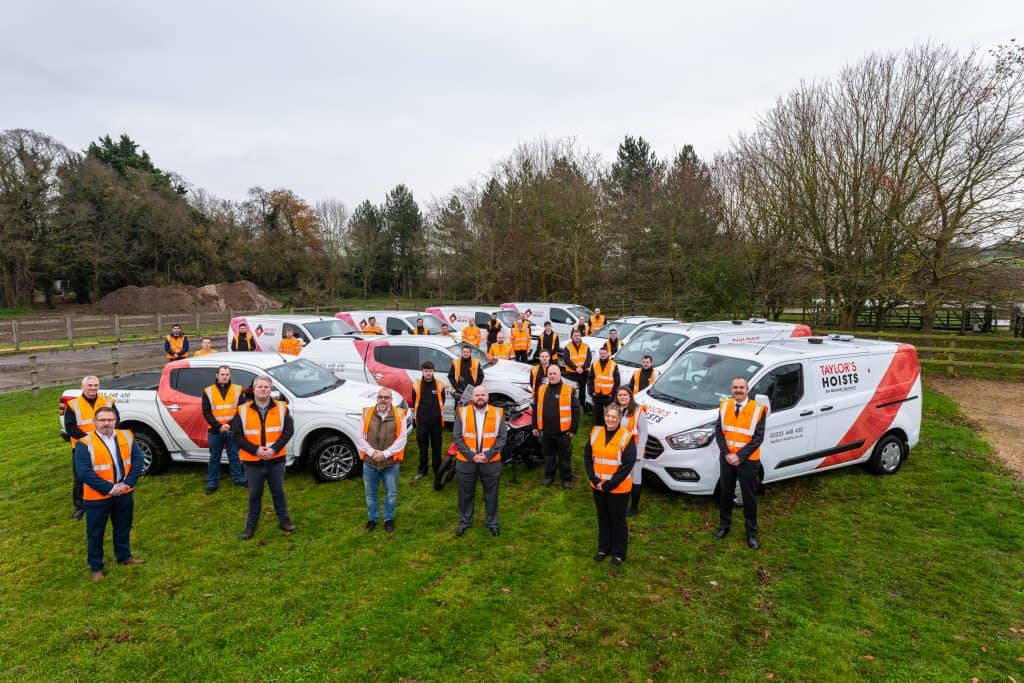 Recalling the early years, Paul said: "Back in 2005, I was the first and only hoist erector. But I was soon joined by a few other guys, making up the small team of Taylor's Hoists field engineers, plus three managers in the office. It grew quickly, as we established a reputation for expertise and an excellent track record of customer service, combined with our decision to specify only the best hoists on the market.
"Back then, our facilities were very basic and we only had the one hoist when I first arrived; a goods hoist that from memory served just two landings! Being honest, I did question if I had made the right move from the national hoist business I was previously part of as a hoist erector. But, when I looked at what Taylor's Hoists could be with the years of knowledge within such a small company, and the brand new Alimak fleet going out to the likes of Bovis, Lendlease, MACE & BAM projects, I knew Taylor's Hoists had great potential. And I was right.
"Fifteen years have not flown by at all – it has been incredibly hard work, long days and many late nights, but never done alone. Whenever I look to my side, I know I can rely on the team of great people working with me, past and present. They are a hugely reliable team that want to deliver the quality of service we offer 24:7:365. Each member of the team – from the board of directors, to depot operatives, company managers and field engineers – are proud of what they deliver.
"That is what Taylor's Hoists is… we are not just a hire company, we are a business that cares to offer the best possible access solutions, driven by our own reputation to maintain the premium standards we deliver, and we do that as a team.
"Of course, we also could not have achieved this milestone without our clients, who have given us the opportunity to show what we are capable of supplying. And those clients from back in 2005 are still many of the ones we still work for today. We have a great relationship with them and they have full confidence we can deliver what they need, safely, on time and on budget."