Storm Gareth has battered the UK with high winds over the last few days leading to the collapse of a number of scaffolds.
A SECTION of sheeted scaffolding around 200 square meters, fell opposite the Royal Free Hospital in North London on Thursday last week. While on Saturday in Kensington another section of scaffolding collapsed onto parked cars narrowly missing pedestrians.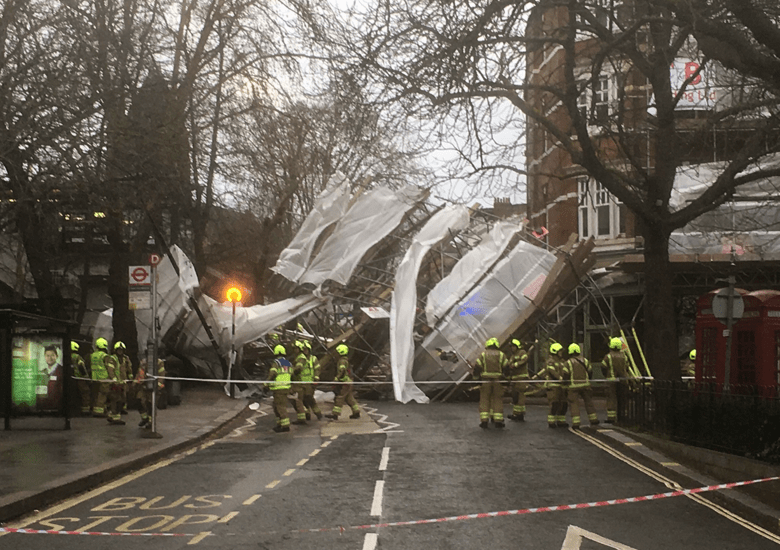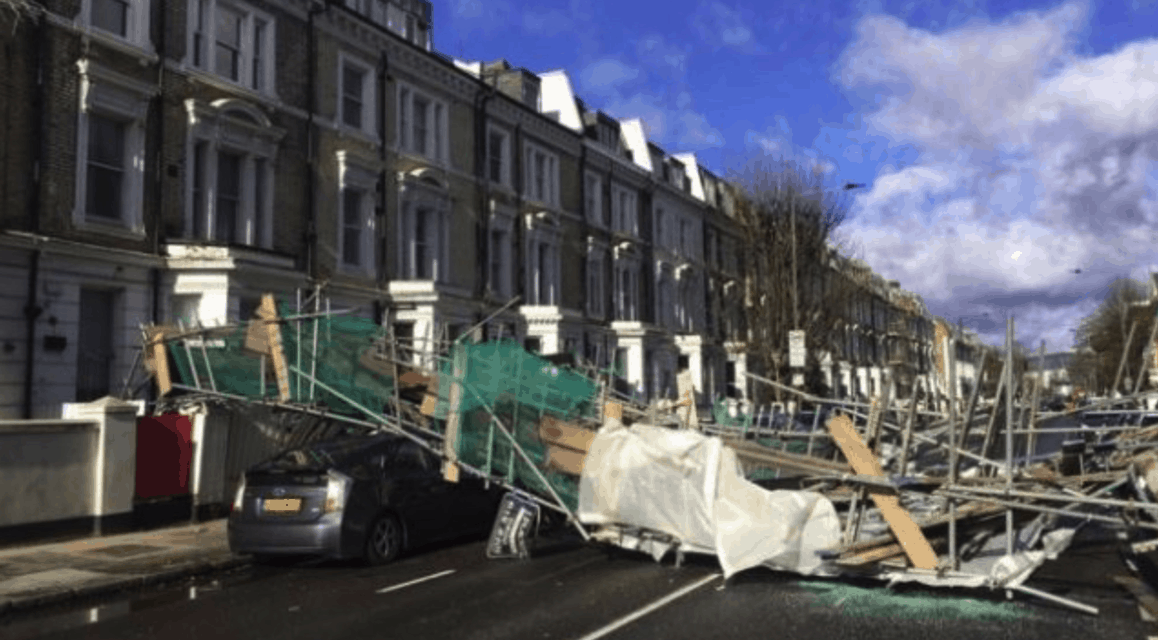 Also in the same borough of Kensington video footage shared on social media on Sunday, shows a tempory roof scaffold swaying dangerously in the high winds causing structural damage to a chimney and window.
My mate just sent me this ? Kensington

Posted by Jon Ansett on Sunday, 10 March 2019
Luckily nobody as yet has been reported being injured in any of the incidents.
In the light of these incidents, The Health and Safety Executive (HSE) posted a tweet this morning reminding its followers of the responsibility of worker and public safety surrounding scaffolding in inclement weather.
Ensure your scaffolding is stable and safe: follow our scaffold design checklist at https://t.co/5WrQSNRZz8 pic.twitter.com/7yqYQuxx6A

— HSE (@H_S_E) March 11, 2019
The Scaffold Checklist produced by the HSE is intended to clarify when a scaffold design is required and what level of training and competence those erecting, dismantling, altering, inspecting and supervising scaffolding operations are expected to have.
It states that 'it is the scaffold users/hirers responsibility to ensure that all scaffolding has been inspected following any circumstances liable to jeopardise the safety of the installation, e.g. high winds. All scaffolding inspection should be carried out by a competent person whose combination of knowledge, training and experience is appropriate for the type and complexity of the scaffold,'