UK-based start-up ScaffFloat and Richter, the UK's largest firm of temporary work designers have partnered to offer a new and innovative access option for bridges, piers and other structures over water.
The innovative ScaffFloat platform which consists of patented plastic floats and standard scaffold components to build pontoons and workboats has been making waves in the industry since it was established back in 2020.
Now after partnering up with temporary work designers Richter the duo has come up with an ingenious way to provide access to many structures over water for inspection, maintenance, build and demolition.
Furthermore, the new access solution will provide its clients with significant cost and time saving compared to traditional scaffolding solutions.
The suspended ScaffFloat platform is built off-site and then lifted in the water. Once afloat, the self-propelled system can make passage along the waterway to the bridge, even if this is miles from the launch site.
Once in place under the bridge, lines or anchors are used to temporarily hold station while a MEWP on deck is used to make the connections to the underside of the bridge.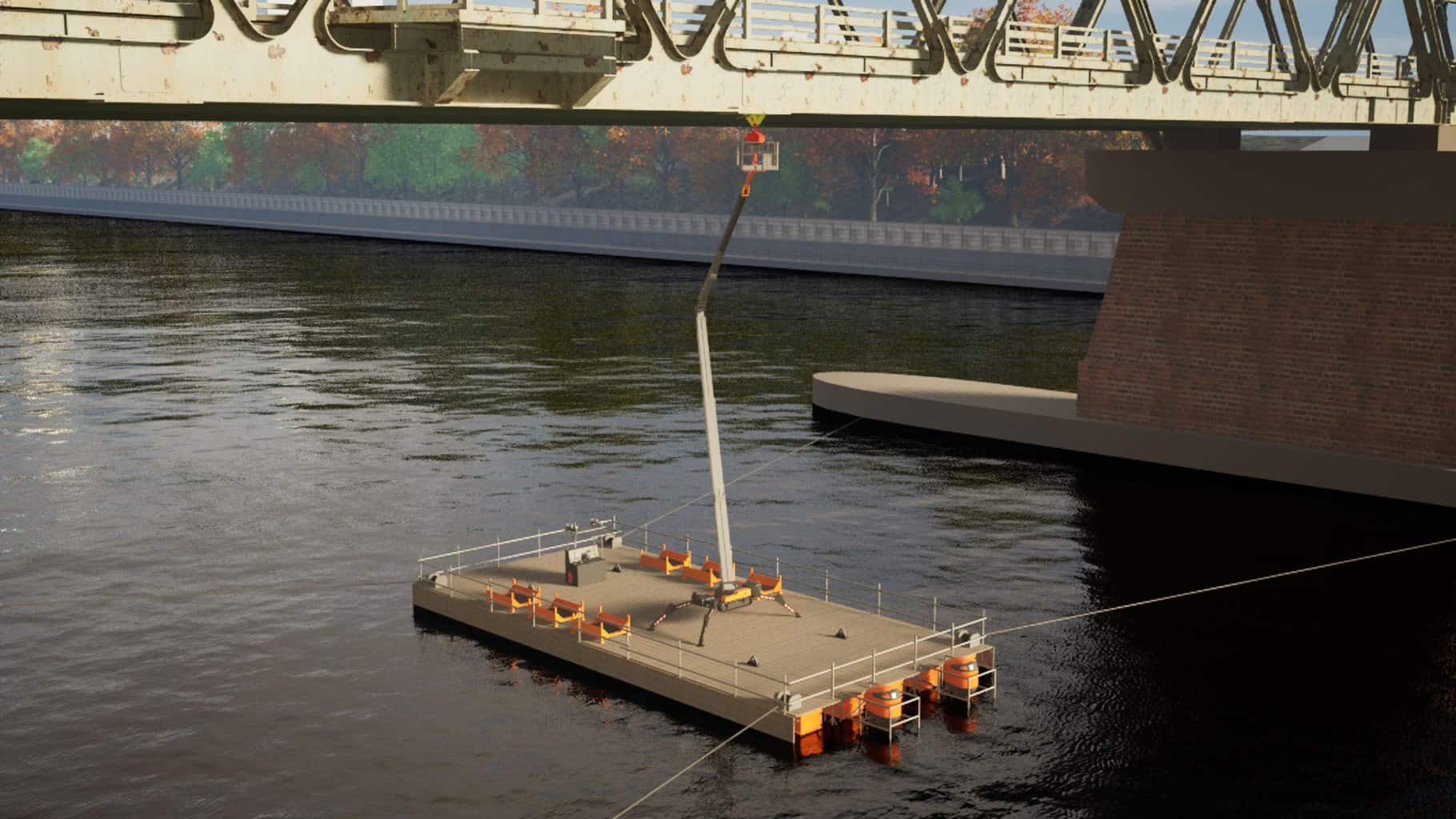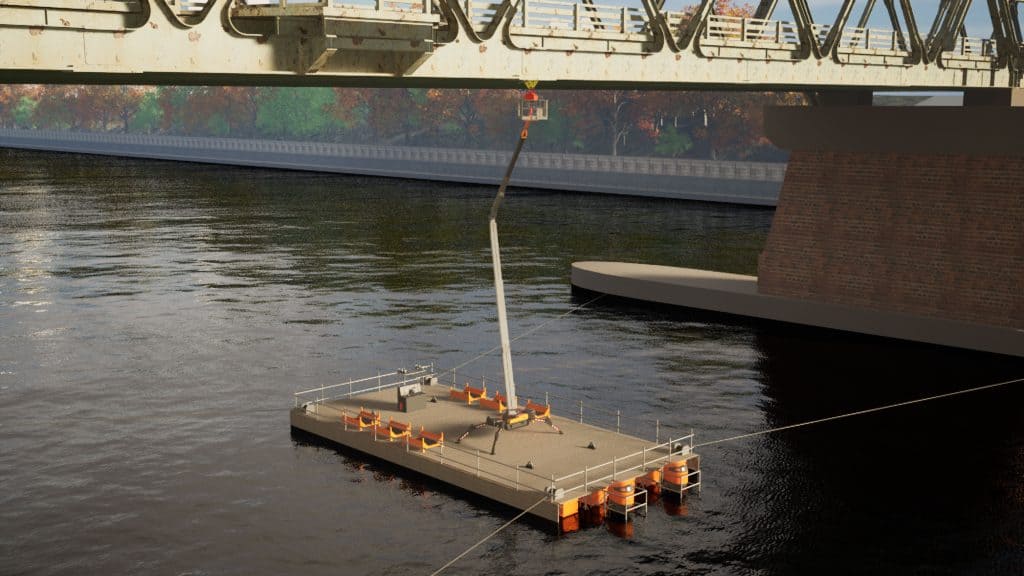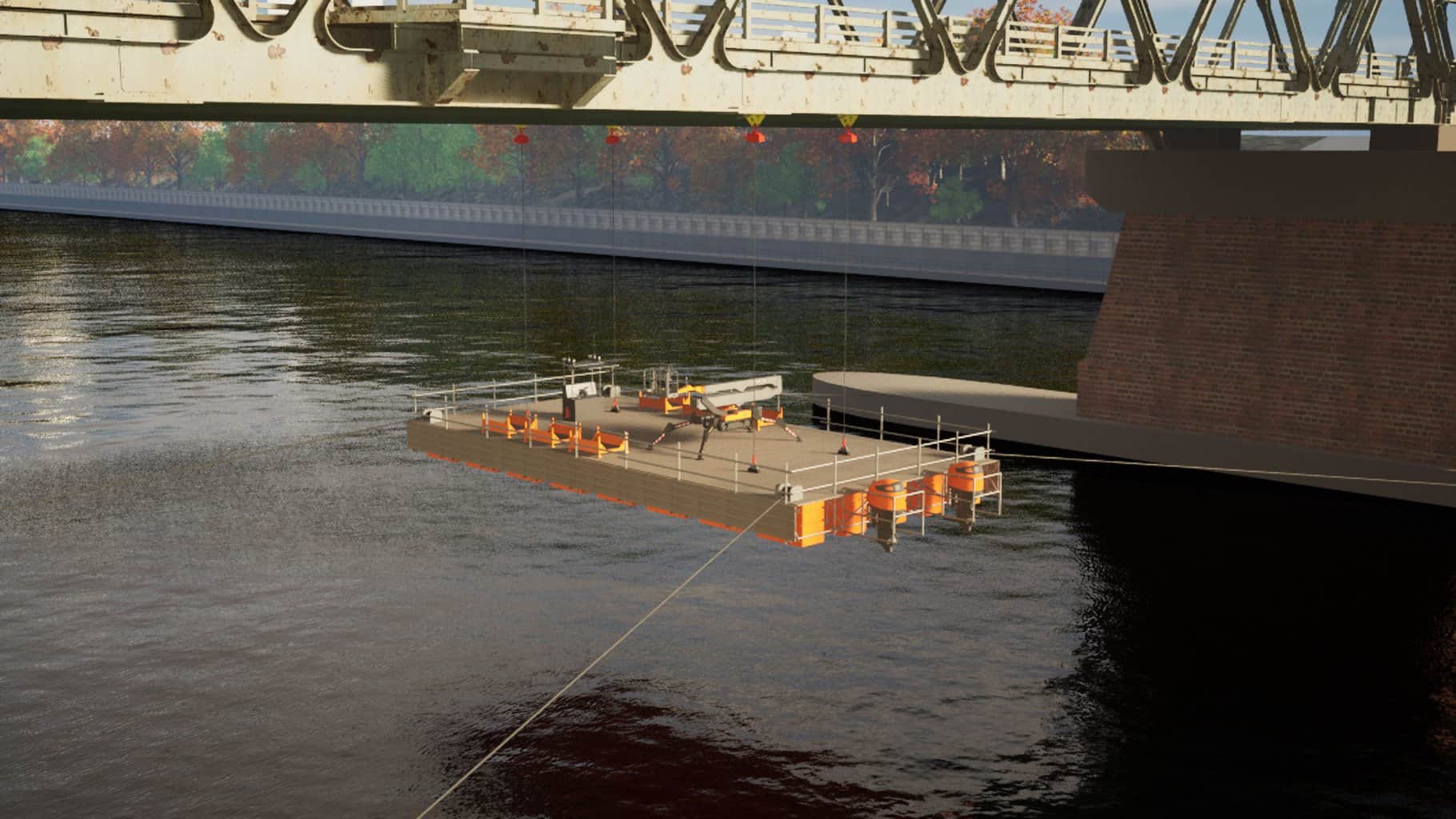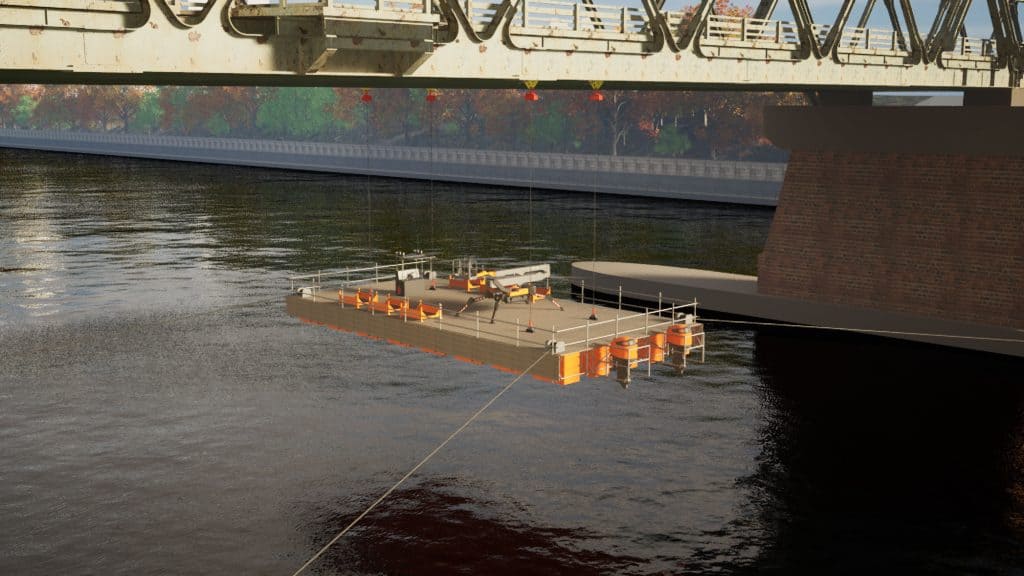 A hoisting system is then used to lift the platform up under the bridge together with a payload of equipment, plant, materials, and scaffold. Once in place, bracing can be applied to stop sway and the scaffold can be quickly and safely punched up from the ScaffFloat beams to give access to the top side of the bridge for contractors.
If needed, encapsulation or netting can also be added to capture any paint or debris released during the planned works. When works are complete the platform can then be lowered to the water and re-positioned, or if needed multiple platforms can be placed side by side.
Toby Budd, MD of ScaffFloat said "ScaffFloat has come a long way since it was launched two years ago. The system has really proved itself now and we have completed over 50 projects and provided 5,000 hours of safe floating access to contractors around the UK and abroad. This suspended offering is another big step forward for the system, really exciting."
He added "We are specialists in floaty things and recognise where our strength lies. This is why we now partner with Richter and 48.3 on a project like this, they do what they are good at: making sure the design meets all industry standards and if necessary they can provide a Cat 3 check, and we do the floaty and hoisting bit on site and make sure it all goes to plan."
Mark Parkin from 48.3 said "We have been working with the ScaffFloat system for over a year now. We can see a real opportunity for this suspended platform and hope this partnership will be a good fit for our clients. We can offer scaffolders and principal contractors a turnkey service on the access design and temporary works, as well as the design for the ScaffFloat and hoist system. We can also carry out the analysis on the bridge structure and certify the connection points needed."
ScaffFloat say they are all about partnership working to deliver value. They work with a number of forward-thinking scaffold companies in the UK to deliver projects together, and see this new access offering as no exception.
Toby added "Whilst we could deliver this service on our own, we would prefer to partner with a local scaffold contractor and I would welcome any companies out there that would like to work with us to give me a call, my mobile number is on the website''