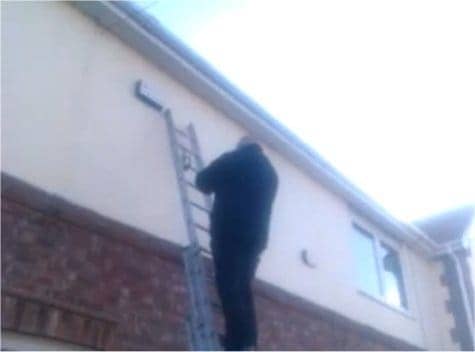 The video of the Morrison safety officer falling from a ladder which we previously featured in our Video of the day section seems to be youtube hit with over 89,000 views and huge press coverage today with the Express, The Sun, and even of BBC Radio 2 featuring the vid.
httpv://youtu.be/O-mLXJAf09w
The video was originally sent to me via facebook by one of our facebook fans but found it's way onto youtube once I viewed the video I knew it had to be featured in Video of the day section to show how not to promote ladder safety.
Within two days Scaffmag was contacted by Morrison's law firm Greenberg Traurig Maher LLP stating that we had to take the video down due to trade mark laws..?( "More like Morrison was very embarrassed about this video being posted on the internet and was trying to stop this video from spreading across the net and damaging Morrison's safety reputation"), but this was in vain as the video went viral within hours on youtube.
Today the media got hold of the story and is featured in all the major newspapers reporting that the safety officer Paul Cavanagh had not been seriously injured in the fall but had been suspended from his job for not following Morrison safety protocol by not anchoring the ladder to the wall.
Chris Morgan the director of health and safety at Morrison posted a comment on youtube
"We are dismayed by this isolated event, resulting from an individual deciding not to comply with our stringent H&S standards."
"This has led to suspension, pending investigation. We strive to ensure that everyone gets home safely, every day and are proud to have one of the lowest accident rates in sector. Please be sure that we have responded appropriately to this incident and that we will always endeavour to operate to the highest safety standards."
Written By Daniel Norton