Edinburgh based City Access Scaffolding (CAS) recently brought an out-of-the box solution to its Boroughmuir High School scaffolding contract.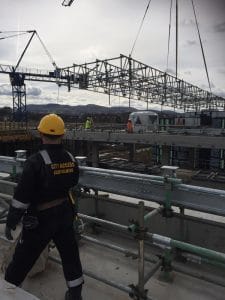 At the heart of the new school is a multi-functional atrium, which using a traditional birdcage scaffold would have meant a design requiring 13,000 m3 of scaffolding weighing around 56 tonnes.
CAS considered another way and used CAD (computer-aided design) from a previously used mobile roofing system and came up with the successfully implemented concept for a rolling scaffold constructed from the roof slab.
CAS say that this is the first time such a scaffold has been used in Scotland and is a significant improvement over a birdcage scaffold. The rolling scaffold, say CAS, is easy to use, was quicker to build and meant a saving of over £60,000 on the project.
"This innovation has had a huge impact on the build time and on our client's costs.  Although we are a relatively new company, our leadership team have over 35 years' experience in the sector, which they applied in order to develop this effective solution.  It's very rewarding to make such a contribution to the project, and we look forward to using the rolling scaffold with other projects," said Kirsty Allan, business development director, CAS.
"The initial concept was drawn up and agreed between CAS team and Craig Watson of Generation UK, then issued to Generation Design Engineers for clarity and suitability of concept before passing to Zenith Design to issue construction drawings, which were readily adopted by the main contractor," said a spokesperson for CAS.
CAS said that the scaffold was built using four operatives over a period of three days with the scaffold being built on the roof slab before being lifted into position by the on-site tower crane. "By utilising this rolling scaffold design, CAS reduced the erection time by 86 per cent, from four weeks to just three days," said the spokesperson
The contractor is pleased too. Mick Fearnon, project manager from O'Hare & McGovern Ltd said, "O'Hare & McGovern would like to express their delight with the rolling scaffold designed and fitted by CAS, and the difference it's made to this major project. The CAS team provided a very innovative design that had never crossed our minds, or indeed any other contractor that tendered for the project. The scaffold itself is safe and easy to use by all contractors on-site and has helped us to make considerable savings in cost and build time."