It's time to forget Brexit as we celebrate the 160th anniversary of 'Big Ben's Great Clock' at The Houses of Parliament. But thanks to our journalistic 'sauces', ScaffMag can also reveal another Great British institution is being celebrated across the land.
HP sauce named after The Houses of Parliament is giving everyone food for thought, presenting a new label for the first time in 123 years. Famous London landmarks including the Elizabeth Tower (housing Big Ben), the House of Commons and Westminster Bridge previously adorned the label, everyone knew and loved.
Now, of course, Big Ben is getting a face-lift. So to reflect our modern times HP Sauce has decided to update their label to show him in all his scaffolded glory. As a long time favourite of our construction and scaffolding workers, what better way is there to share the joys of both the condiment and the industry. And it's not costing them a sausage.
Joel Hughes, spokesperson at HP Sauce poured over the announcement saying: "Big Ben is the most Instagrammed landmark in the UK and decorates millions of bottles of HP Sauce every year. While Ben has a face-lift, and because we're a good and honest sauce, we thought it was high time we showcased the true view and created a label that showcases parliament and Big Ben in their scaffolded glory. The 160th anniversary of The Great Clock at the end of May seemed like a great opportunity to launch, so we're celebrating its momentous anniversary with our new label that we'll keep until the old guy rings out across the land again in 2021."
In fairness to the bods at HP, such a move takes a lot of bottle. Mind you, it was named HP after it was reported Ministers were enjoying it in the Westminster restaurant. In fact, the original recipe was invented and developed in 1896 by Frederick Gibson Garton, a grocer from Nottingham. Fred invented the recipe in his pickling factory at the back of 47 Sandon Street, Basford. When the current owner of no. 47 moved in, he threw out a skip-full of original HP Sauce – which could have been worth a fair bit of money today! Garton sold the recipe for the sum of £150 to settle a debt with Edwin Samson Moore, the founder of the Midlands Vinegar Company, who launched what we know and love today as HP Sauce. It was granted a Royal Warrant in 1951.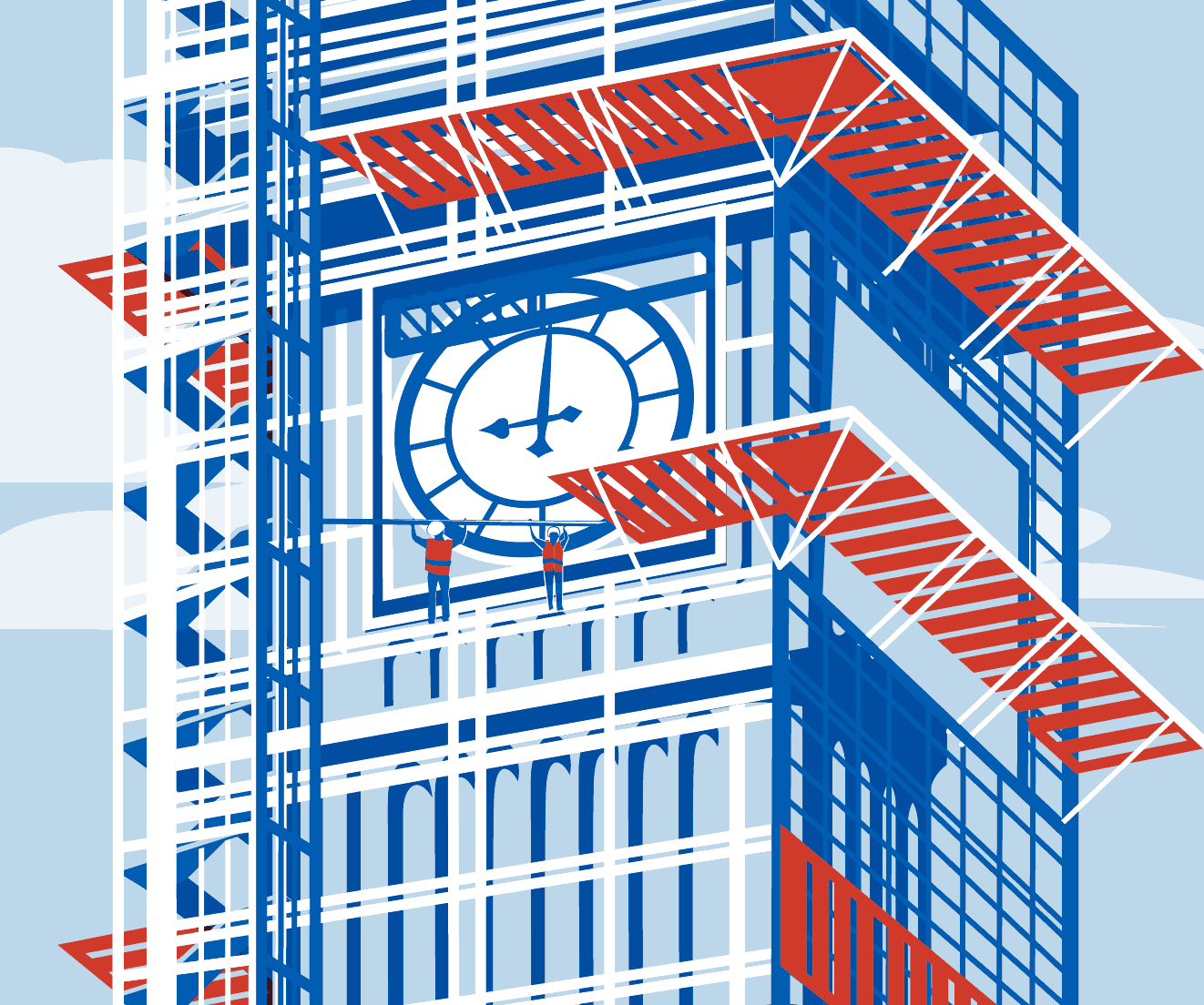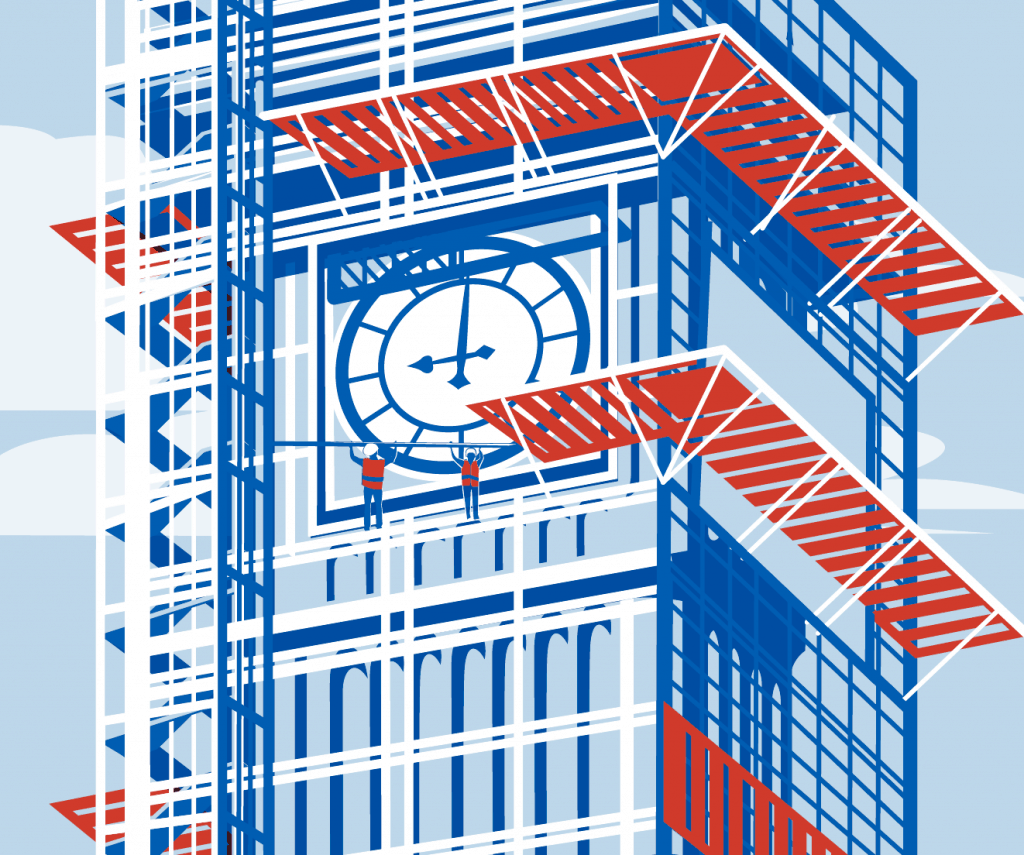 HP Sauce History
You may not know The HP Sauce recipe is so secret when it was sent to Canada during WW2, it was sent in code in two separate envelopes, with a third envelope containing the instructions. HP now sells 24 million bottles a year, with the average British citizen consuming a kilo of HP Sauce annually. If those 24 million bottles were stacked on top of each other, they would reach the same height as 5,304 Houses of Parliament!
There's much more however in our quest to bring you spicy news, as ScaffMag has learned the late Prime Minister Harold Wilson's wife told the press he smothered HP Sauce on absolutely everything. This lead to the sauce being dubbed 'Wilson's Gravy' for a while. The name arose after Wilson's wife, Mary gave an interview to The Sunday Times on his saucy habits – the full English if you like.
And if you want the ultimate tribute – HP sauce features in John Betjeman's poem 'Lake District' – "I pledge her in non-alcoholic wine / And give the HP Sauce another shake."
In 1984 however the French paragraph on the label was removed from the bottle – provoking fury from this Times reader: "Sir, Am I alone among your readers in deploring the loss of that much loved and most piquant of French primers – the label on the HP Sauce bottle?
"If unfortunate circumstances decreed that there was nothing else to read at the breakfast table one could always turn to the HP Sauce bottle for a little French revision. It will be sadly missed." Dr. JH Hunter, Frampton On Severn, Gloucestershire.
More recently, the Brown Sauce range has seen the addition of HP Reduced Salt and Sugar, with 25 percent less salt and 30 percent less sugar, for the more health conscious HP lovers. Fortunately, if we ever do leave the EU, our continental friends will still agree on one thing – we have the world's best label when it comes to our parliamentary sauce.
It's time for scaffolders to raise a bottle in café's and service stations across the land as we wish both Big Ben and the new HP sauce label, a happy fruity future. Other varieties are available of course.
Grahame Anderson – written on his lunch break