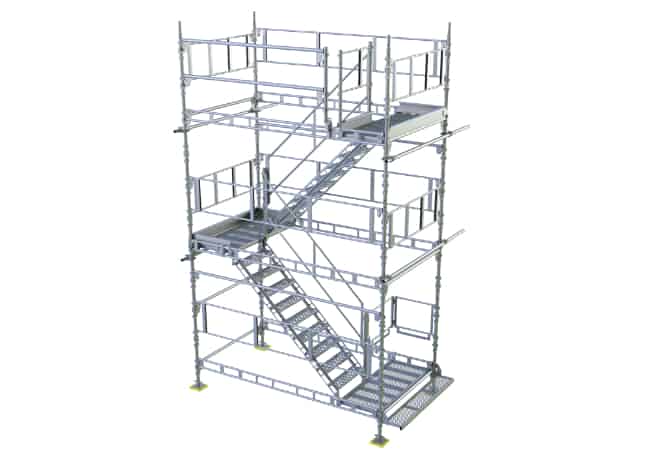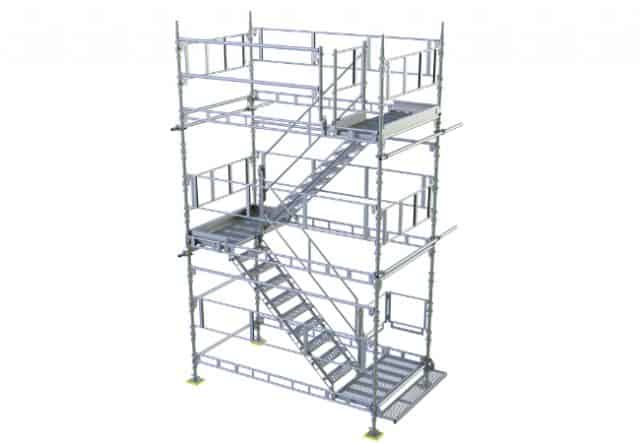 TRAD UK, the new brand for the combined TRAD Hire & Sales and TRAD Safety Systems companies, can now offer its TRADSTAIR system to scaffolding and construction contractors, allowing them to access different areas of the site easily and safely.
The stair, which has been designed to work as an independent unit, or in conjunction with tube and fitting or system scaffolds, is adaptable and can be assembled from a minimal number of pre-fabricated galvanised steel components.
A fully tested and verified system which complies with all relevant British and European standards, TRADSTAIR is assembled from standards, ledger beams, purlin rails and frames, stair flights, landings, guardrails and handrails. Components are subject to periodic testing by approved, trusted and independent UK facilities and are marked with TRAD's identification giving full traceability.
In addition, the system's minimal amount of components makes TRADSTAIR extremely efficient and easy to use.
Independent stair can also be used with traditional and system scaffolding
High permissible loads and personnel capacity
Faster to build, helping contractors to save time and money
Maximises efficiency and productivity on site
Compliant with BS EN 12810 and 12811 and NASC Code of Practice 
"TRADSTAIR is an important part of our product range and gives contractors the ability to hire or buy quality staircases that can be used on-site, in isolation or alongside scaffolding systems," said Alan Slater, Head of Technical and Product Support.
"It provides safe and efficient access to on-site working at height locations, and helps to protect workers, whilst also being a cost-effective solution."