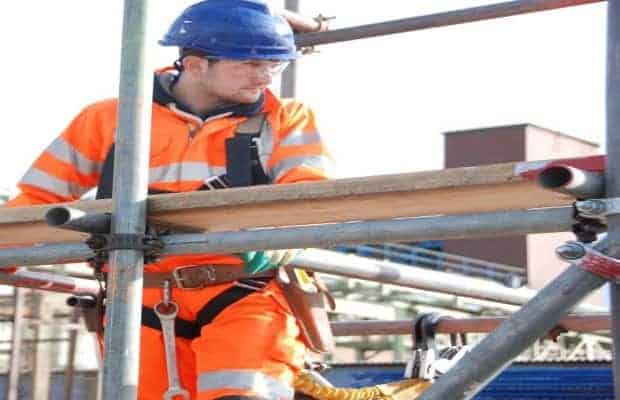 Childhood friends develop some innovative new scaffold fittings to bring an end to the use of 'dead men tubes' for securing toe-boards.
Two scaffolders, Aaron Gray and Scott Wesson have designed and developed some interesting new time saving scaffold fittings. The Scotti Fittings have been developed for securing toe-boards without the use of a 'dead man tube'.
The pair hope the new fittings will change the way scaffolding operates, by reducing erection time,labour costs and weight.
The Scotti Fittings encourages best scaffolding practice and fully complies to SG4:10 guidelines also improves site safety with the removal of the 'dead men tubes'.
*Definition* – Deadman Tube, A vertical tube attached the handrails that can reach down to attach the toe-board.
The fitting will have huge benefits for scaffolding companies with each single Scotti Fitting saving the use of a 5ft tube, 2 doubles and a single clip, over a large independent or tower the savings could be enormous.
Although the duo are not willing to release any images to the media of these new fittings the scaffolders are in talks with three of largest UK scaffolding companies both onshore and offshore. These firms have shown an overwhelming interest in the Scotti Fittings and wish to trial them.
Scott Wesson the inventor of The Scotti Fittings said:
"I first thought about the fittings after thinking they're must be a better, safer, simpler way to securing a toe-board. After some trial and error, I found the solution."

"The fittings are patent protected and under CDA agreements with the manufacturers that we have spoke to.

"The fittings will benefit everyone in the industry, from labourers to owners. They save time, investment, costs, weight and have a dozen other benefits which will benefit both the onshore and, in particular, the offshore industries."
For more information on The Scotti Fittings please contact:
Gray and Wesson Business Developments Ltd.
[email protected]